Looks like no week and month passes with Afia Schwarzenegger and her children making headlines.
Yesterday, a video emerged that indicated that Afia was prevented from boarding a flight because she was heavily drunk and therefore seen as a flight risk.
Before that, there was a wild allegation from Nana Tornado a one-time partner in crime of Afia Schwar stating that one of her twins was gay and the other one impregnated a lady but failed to take responsibility.
Aside from the wild allegation from Nana Tornado, several netizens have a thing or two to reveal about James Ian Heerdegen Geiling and John Irvin Heerdgen Geiling.
Fast Forward, one Prophet identified as Servent Baffour has revealed that he has seen a dark cloud hovering around the heads of the two boys which indicates there is death ahead of them.
He posted: "There's a serious attack on one of the sons of Afia Schwar and I perceive death. All the same, who am I and who'll even take me serious?"
See the screenshot of his post below.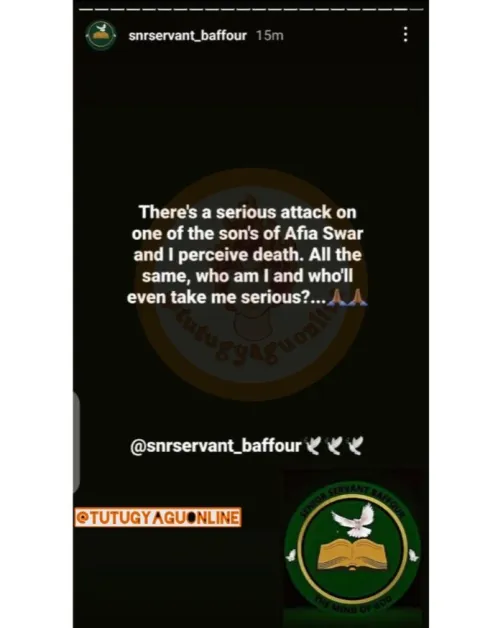 Knowing the kind of person Afia Schwarzenegger is, we believe she would surely respond to the man of God.